In this issue:
It has been another productive year for STIEF with:
The re-launch of www.justthefacts.co.nz and www.herpes.org.nz as mobile-first websites to meet the needs of our audience
The launch of www.stief.org.nz
800+ STIEF and NZSHS STI Summary of Guidelines distributed
325+ Helpline calls received
12,800+ patient information pamphlets distributed on request
2,060,000+ website page views
980,920+ website visitors
We are delighted to announce the launch of our new STIEF website. It will now host issues of STIEF News (rather than Just the Facts). Check it out!
As of November 2019, the cervical screening start age changed from 20 to 25 years of age.
Click here to read an article by Dr Cathy Stephenson: Why changes have been made to NZ's cervical screening programme.
The information below is adapted from updates provided by the National Cervical Screening Programme (NCSP).
Rationale
Firstly, cervical cancer in women under 25 years of age is rare. There is also good evidence that cervical screening does not appear to be effective at preventing cancer for women under 25. Since the start of the National Cervical Screening Programme in 1990, there has been no reduction in the incidence rate of cervical cancer for those under 25 years of age, as a result of screening, despite significant reductions in cancer rates for older women.
Starting cervical screening from 25 years is recommended by the World Health Organisation's International Agency on Research on Cancer. Many other countries, for example Australia, UK, France, Belgium, Italy and Norway, start screening at 25 years of age. Some other European countries, such as the Netherlands and Finland, start screening at age 30 years.
Additionally, the introduction of human papillomavirus (HPV) immunisation means that young women are increasingly protected against HPV, the virus that causes cervical cancer.
Primary Care Practice Management System (PMS) changes
In November, PMS vendors completed the necessary updates to commence the roll-out of the age change. The PMS updates will ensure that the recall/task dates implement the age change as below:
Women under 25 years who are not currently in the programme are no longer invited for screening.
Women under 25 who have already been screened, should continue to be screened according to the current pathway.
For further information on the relevant PMS updates visit the National Screening Unit website.
Communicating the age change
Updated NCSP printed resources will be available to order from HealthEd this month.
Additional resources to raise awareness among staff and patients about the age change can be found at the NSU project page.
Digital information to support patients about the age change can be found at the Time to Screen website.
A new media campaign, targeting 25 to 29 year-olds, to raise awareness of the importance of cervical screening, and the change to the screening start age, is planned to go live nationwide in February 2020.
HPV Immunisation messaging
HPV vaccination and regular cervical screening offers the best protection against cervical cancer. Vaccination is most effective when given prior to HPV infection, i.e. before becoming sexually active. For people who are already sexually active, the vaccine may still be of benefit as it will prevent the acquisition of new HPV infections for the strains the vaccine covers. Click here for more information about the HPV vaccine (including a patient information pamphlet).
Implementing the age change
From 1 November 2019, the NCSP is recommending the following approach:
Women under 25, who have already been screened should continue with screening.
Women under 25, who have not started cervical screening should commence screening at 25.
Women can be invited to the screening programme from 24.5 years.
Note: anyone with a cervix, including those outside the screening age range, who have concerning symptoms such as unusual vaginal bleeding should see their health care provider, who will arrange appropriate tests.
Queries
NSU project page: includes links to key documents, previous updates and FAQs related to the change to the screening start age.
Queries: feedback and queries can be directed to [email protected] , including the title AGE CHANGE PROJECT in the subject line.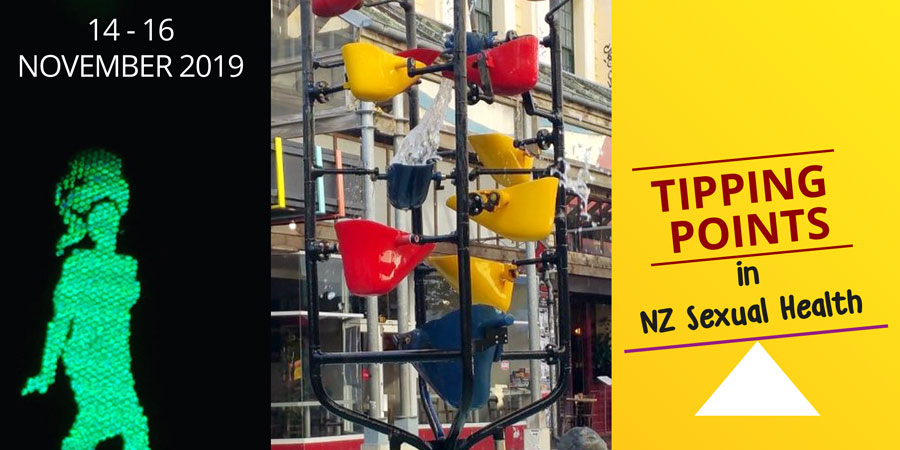 Last month, delegates from around Aotearoa New Zealand gathered in Wellington for the 41st New Zealand Sexual Health Society (NZSHS) Conference. The title of the conference, "Tipping Points in NZ Sexual Health", was inspired by Wellington's iconic Bucket Fountain and referred to the critical issues in sexual health that we are currently facing. NZSHS President Dr Julia Scott opened the conference highlighting some of these issues, including the re-emergence of syphilis, the influence of social media on sexual networks, and the under-resourcing of sexual health services.
A main focus of the conference was the persistent and unacceptable inequities in sexual health for indigenous people. Te Whāriki Takapou and the NZSHS have produced the Aotearoa Statement on Closing the Gap on STIs, & Blood Borne Viruses Among Indigenous Peoples of Australasia, which was introduced at the beginning of the conference by Dr Alison Green (Ngāti Awa, Ngāti Ranginui). Organisations and individuals are invited to sign up to the Statement, available at https://www.nzshs.org/events/the-aotearoa-statement.
Associate Professor James Ward, a Pitjantjatjara/Nurrunga man and Head of Infectious Diseases Research Program-Aboriginal Health at the South Australian Health and Medical Research Institute, gave two presentations at the conference. Both talks highlighted the appalling inequities in sexual health in Australia for indigenous youth, especially in remote areas. Associate Professor Ward stressed the importance of including indigenous people in designing interventions to combat these issues, and reminded us that when people are active rather than passive participants in research, the results are much better.
Associate Professor Joanne Baxter (Poutini Ngāi Tahu, Ngāti Apa kit e Rā Tō), Associate Dean for Māori Health, and Director of Kōhatu – Centre for Hauora Māori, gave an inspiring talk about the work that the University of Otago has been doing to support Māori students through to completion of their studies. Joanne urged us to avoid a deficit approach when thinking about inequities between Māori and non-Māori, and instead to turn the question around and ask what the problems are with our systems, services and polices that are resulting in poorer outcomes for Māori.
Dame Sue Bagshaw wowed with her positivity and straight-talking when it comes to supporting young people in Aotearoa New Zealand. She highlighted the epidemic of mental ill-health among young people and related this to poor sexual health outcomes – 'you can't have good sex without good mental health'. She also argued that we all need to learn to talk about sex with comfort, because otherwise young people will not talk to us about sex, and pornography will continue to be the biggest educator.
Samuel Andrews from the NZ Drug Foundation gave a talk about sexualised drug use and argued that by only focusing on the risks associated with it, we are ignoring the pleasure aspect of the practice, which is usually the main motivator. This only leads to more stigma and less empathy around the issue. Samuel advocated that sexual health services are ideally placed to provide harm reduction advice, and that it is best to approach the conversation as one topic rather than separating out sexual health and drug use in terms of healthcare.
Conference delegates were treated to a moving dramatisation of how the legalisation of sex work in Aotearoa New Zealand has made the industry safer for its workers. Though, as highlighted by Chanel Hati, Tanya Drewery and Cherida Fraser from the NZ Prostitutes Collective in their session on sex work in Aotearoa New Zealand, there is still much work to be done. The panel identified the numerous problematic representations of sex workers in the mainstream media, leading to stigma and harm. They also discussed structural issues, in particular, the law that prevents migrants from participating in sex work, meaning they are not protected by the same laws as New Zealand sex workers and thus open to exploitation.
Friday afternoon of the conference included a full session on gender affirming healthcare. Dr Jaimie Veale and Jack Byrne presented results from the Counting Ourselves Survey, an anonymous survey about the health of trans and non-binary people living in Aotearoa New Zealand. Their study revealed some serious shortcomings in access to sexual health and fertility information for trans and non-binary people. For example, only 42% of participants had ever received trans-specific sexual health information. In addition to the Survey results, Dr Jeannie Oliphant introduced the Guidelines for gender affirming healthcare in Aotearoa New Zealand and Dr Massimo Giola presented on sexual orientation and sexual activity among a cohort of transgender individuals. Lastly, a panel of experts convened to discuss the availability and accessibility of sexual healthcare to the trans community and how this may be improved.
Dr Jane MacDonald from the Centre for Women's Health Research at Victoria University of Wellington provided an update on the study He Tapu Te Whare Tangata – The Sacred House of Humankind. This research is being conducted to inform cervical screening strategies for Māori women. Māori women suffer a greater burden of cervical disease than New Zealand European women, and the majority of cervical cancers (85%) occur in women who have not been regularly screened. Some key results from the first phase of the study are that whakamā (bodily autonomy), fear of pain/discomfort, time, and money were the most frequently-cited barriers to regular cervical screening, and that around three quarters of women reported that they would be likely or very likely to do a HPV self-test. We await the results of the randomised control trial to see if offer of self-test swab will increase cervical screening rates in under screened Maori women. Results of this phase of the study should be published early in 2020.
Dr Jane Morgan, Clinical Director of Hamilton Sexual Health, closed the conference with her inspiring talk on human connections. She noted the irony that in a super-connected world, we are more disconnected from one another than ever, and stressed the important of compassion, empathy, and being aware of our implicit biases. She explained how our thoughts, feelings and language translate into biological changes in the body and ultimately into our actions. Lastly, she reminded us that when it comes to sexual health we often focus on the individual determinants, but it is actually the social determinants that we need to be tackling.
A number of these conference presentations will be able to be accessed from the NZSHS website later this month.
ESR STI surveillance interactive dashboard: Provides information on trends in syphilis, gonorrhoea and chlamydia in New Zealand.
Ministry of Health National Syphilis Action Plan: An action plan to stop the syphilis epidemic in New Zealand.
Podcast - Syphilis in New Zealand: A podcast produced by the Goodfellow Unit. Dr Massimo Giola talks about the re-emergence of syphilis in New Zealand.
Podcast – Syphilis in pregnant women and congenital syphilis: A podcast produced by the Goodfellow Unit. Dr Massimo Giola talks about congenital syphilis and screening during pregnancy.
Supporting Aotearoa's Rainbow People: A Practical Guide for Mental Health Professionals: Created by Gloria Fraser in partnership with RainbowYOUTH, Gender Minorities Aotearoa and InsideOUT, this guide is for anyone who provides mental health support in Aotearoa.
Gender Minorities Aotearoa – Glossary of gender related terms and how to use them: Gender Minorities Aotearoa is a nationwide organisation which is run by and for transgender people, including non-binary, intersex, and takataapui gender diverse people. It offers information, advocacy, and wraparound support for transgender people of all ages, ethnicities and backgrounds. They also produce this useful glossary of gender related terms and how to use them.
Counting Ourselves: An anonymous community-led health survey about the health and wellbeing of trans and non-binary people in Aotearoa New Zealand. The survey was live from 21 June until 30 September 2018.